First thing's first: Yup – Rainbow is her real surname. And as it suggests, she is a lady of many colours. Based in Brisbane's Bayside, Kasey brings her passion for colour to creating a unique style that oozes personality and radiates happiness. She spends her days drawing, painting and designing – basically living the dream of her 5 year old self, being a full-time artist! Kasey likens her skill set to that of a kid's lolly bag – you never know what you are going to get, but you know it is going to be good!
We joined forces with the colourful Kasey Rainbow in our most vibrant and exciting collaboration to date, to bring you not one, but THREE Limited Edition Body Oils! Amazonia by Kasey Rainbow brings nostalgic 90's childhood memories to life with the sweet scents of juicy watermelon, sweet strawberry, and rich vanilla.
Amazonia by Kasey Rainbow Limited Edition Body Oil features Kasey's 'Amazonia' artwork on the label and also the product packaging. All purchases of Amazonia by Kasey Rainbow Limited Edition Body Oil will be sent with a print of 'Amazonia' for you to feature in your home, office or wherever you choose to live bright!
If you are not sure what a body oil is, allow us to introduce to your new favourite luxury moisturiser. While traditional body lotions, moisturisers and creams will keep your skin hydrated, our scented body oils provide that extra hit of moisture that your skin craves. It's no secret that the most popular beauty trend of all time is glowing, healthy skin. Amazonia by Kasey Rainbow Limited Edition Body Oil ticks all of the boxes; non-greasy, fast-absorbing, and mega-addictive scent; and all of the nourishing benefits of an oil minus the oiliness! Plus, the cute AF artwork on the bottle will make complete your bathroom aesthetics *chefs kiss*.
Our Australian made body oils are formulated and poured in house by us, with cold pressed Apricot Kernel Oil, Avocado Oil, Macadamia Oil and Vitamin E. Formulated specifically for quick absorption, our body oils take moisturising from a chore to a full-blown experience.  
SCENT: Watermelon, Strawberry + Vanilla
Apply directly to damp or dry skin and massage as you would a traditional cream moisturiser. If you suffer from dry/dehydrated skin, eczema, psoriasis or similar, you have no doubt already been recommended oiled baths. And if you haven't ever experienced an oiled bath, this is your sign GF! Applying a few full droppers of body oil to your bath will turn it into a dewy AF spa experience. Want more SKINNED Body Oil hacks? Click here!
⦁ All skin types: All of our body oils are jam packed with super nourishing ingredients for all skin types- including sensitive skin.
⦁ Pregnant Bellies: Ditch the itch with our moisturising body oils! Skinned products are safe for pregnant and nursing women to use. They don't contain nasty ingredients that could harm you or your little one. Our powerhouse oil formulas help to promote collagen production and leaves skin nourished and smooth as it stretches during pregnancy. This helps to reduce the appearance of stretchmarks and soothe itchy and inflamed skin. If you are unsure, please discuss this with your GP.
⦁ Stretch Marks/Tiger Stripes: The more moisturised and hydrated your skin is, the less chance there is of stretch marks appearing. Our nourishing body oils are a rich source of essential fatty acids and vitamins which can help improve skin elasticity.
⦁ Scars: Our moisturising body oils are formulated with cold pressed oils that are anti-inflammatory and contain antioxidant properties. These cold pressed oils play an integral part in healing wounds and increase collagen production.
⦁ Eczema and Dermatitis: Eczema and dermatitis reduce the skin's ability to remain hydrated. Applying our nourishing body oils helps to reduce discomfort and soothe symptoms that are associated with eczema.
⦁ Psoriasis: If you are looking for a remedy for your psoriasis, our moisturising oils get a lot of buzz! Cold press base oils used in our formulations help to retain moisture, reduce redness, and soothe itching often associated with psoriasis.
As with ANY cosmetic product, we always recommend doing a patch test prior to use to ensure your skin compatibility.
INGREDIENTS
⦁ Prunus Armeniaca Kernel Oil | Apricot Kernel Oil: This oil is mild enough that you can use it daily. Rich in both vitamins A & E, it is non-irritant and soothing. Suited to all skin types including sensitive skin. Dry AF skin? Apricot oil. Feeling like you've got more wrinkles than a shar pei? Apricot oil. Bad credit? Apricot oil. BF acting up? Apricot oil. It's that good.
⦁ Persea Gratissima Oil | Avocado Oil: Rich in antioxidants and anti-inflammatory agents, avocado oil helps skin to stay smooth, strong, and improves elasticity and skin tone.
⦁ Macadamia Ternifolia Seed Oil | Macadamia Oil: Macadamias are not only delicious to eat, but our skin happily soaks up the beneficial properties of this oil! Naturally hypoallergenic, macadamia oil is rich in naturally occurring vitamin E and is fantastic for dry and mature skins.
⦁ Tocopherol | Vitamin E: Full of antioxidants, this oil is busy fighting off the free radicals. That's fancy talk for 'it's great for anti-ageing'.
⦁ Fragrance: Decadently scented with watermelon, strawberry, and vanilla.
BUYING FOR SOMEONE SPECIAL?
Frequently bought together
Customer Reviews
100
reviewers would recommend this product
Write a Review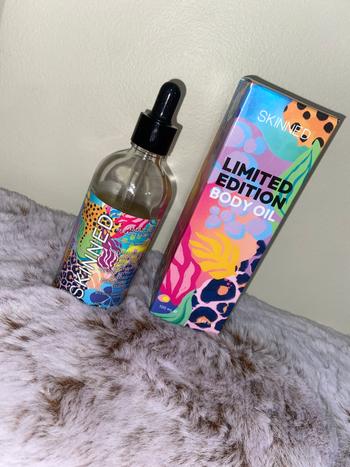 05/30/2022
I recommend this product
Bit too sickly sweet for me
I looooove skinned body oils but this was a bit too sweet for me. I did get compliments when I wear it but it sometimes gives me a headache. There are definitely other fragrances I will pick over this one. Love the packaging though.
Elise

Australia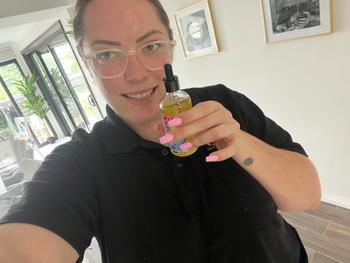 04/14/2022
I recommend this product
Smells like bubblegum
I was so pleasantly surprised with this scent, smells so delicious, kind of like a watermelon bubblegum, the packaging is really nice too
Laura

Australia
04/06/2022
I recommend this product
It's so juicy!
I've recently tried the Amazonia watermelon, strawberry and vanilla scented body oil and wow. The scent is so sweet, fruity and fresh! It reminds me of fruit flavoured candy. The artwork on the bottle is so bright and colourful! It really adds a pop of colour to my makeup counter. I use this product both in the morning at night. I tend to use one full dropper for during the day and two at night. I usually dislike body oils as they leave quite an oily residue and I usually find them messy however the skinned body oil dry's down so nicely and are non-oily to the touch which makes them perfect for everyday use. I used to have quite scaly skin on my legs, and I've noticed since using the oil that they are now quite moisturised and the prominent scaling/cracking has gone away completely! Even if I accidentally miss a day or two of using it, I still notice the difference! I recommend Amazonia to anyone who loves a sweet smelling scent!
Holly S.

Australia
07/22/2022
I recommend this product
wow!
What an amazing scent that just transports you to a sandy beach in the sun. Fragrance is long lasting, I use mine as perfume and the moisturising feel is just a bonus in this winter dryness! Love love love.
06/04/2022
Just Not for Me
This is the first SKINNED oil that I do really care for. It smells really sweet - like I am massaging melted candy into my skin. I wore it once and it gave me a headache. However, the artwork is gorgeous, and if you like sweet smelling body products, this is will be perfect for you!
Brittany N.

United States